Thursday, 26 October 2017
If you're looking for an exciting career in an emerging tech field, look no further than a job in AI engineering. Even though this is one of the fastest-growing jobs in the technological sector, the demand far outpaces the number of qualified applicants. According to a 2014 Pew Research study on Future Jobs, artificial intelligence will permeate our daily lives by 2025, displacing many jobs in the process but also creating new career opportunities for those with the right skills.
What Exactly Does an AI Engineer Do?
AI engineering falls into the greater purview of the growing artificial intelligence field. Some AI engineers get their start in software engineering and then move into AI, while others come from unique backgrounds such as biology, according to IEEE. This is a constantly-changing field where agility is key, so the skill requirements will be as unique as the organization you work for, however as a general lay of the land here is some useful information adapted from a subject matter expert on Quora:
AI or machine learning researcher:
Research and discover improvements to machine learning and robotic algorithms. In some cases, find out ways to apply these theories to new domains. In many cases, people in these positions will hold an advanced degree such as a Masters or Ph.D. in a STEM-field.
AI software development, program management, and research:
Building the systems and infrastructure that can apply machine learning to a given data input set. Most of these jobs are held by people who have an undergraduate degree in a related field like computer science, engineering, etc. These positions are an excellent fit for individuals with some understanding of AI, robotics, and strong mathematical skills.
Data mining and analysis:
A deep-dive investigation of large data sources, often involving the creation and training of systems to recognize patterns. Ph.Ds are not unheard of in these roles, but positions can be filled by highly experienced professionals with bachelor's degrees.
Machine learning applications:
The application of machine learning or AI to perform a specific function in a particular field. This can involve training machines to recognize gestures, detect financial fraud, or analyze the content of ad and marketing campaigns.
Bearing in mind the fact that AI, robotics, and machine learning are still nascent fields, it's hard to winnow down exactly what someone called an "AI engineer" will do on the job. Knowing how to code is a given. Most early career applicants to this field will boast proficiency in multiple coding languages with substantial knowledge working with computers. Employers also love seeing prospects who have worked with open-source projects so they can see the code they've actually written.
Beyond technical skills, the top trait employers are looking for is an innate curiosity and love of AI-related tech and exploring all the options, it can provide. At this point in the game, almost every industry is looking for talent with AI skills.
Rockstars of the AI Engineering World
Andrew Ng: Best known for his joint research with Google and as the former Chief Scientist at Baidu, where he led the company's AI Group. His research primarily focuses on machine learning and deep learning.
Geoffrey Hinton: A computer scientist and cognitive psychologist, noteworthy for his groundbreaking work on artificial neural networks. He divides his time between working for Google and teaching at the University of Toronto.
Daphne Koller: Israeli-American Professor of Computer Science at Stanford University and one of the founders of Coursera Learning. Her particular area of expertise is machine learning and its application to biomedical sciences as well as Bayesian machine learning.
Yann LeCun: A well-known computer scientist with notable contributions in computer science, machine learning, mobile robotics, and computational neuroscience. He is known for being the first Director of AI Research at Facebook.
Other famous AI engineers along with their contributions:
Yoshua Bengio (artificial neural networks, deep learning)
Jürgen Schmidhuber (research in AI, self-driving cars)
Ian Goodfellow (AI Research Scientist at Google)
Key Qualifications for AI Engineers
Qualifications for AI engineers can be broken down into three broad categories: education, skill set, and personality traits.
Education:
While some AI engineers do not have a degree, for the most part, AI engineers looking to work with large tech companies need at least a bachelor's degree. Here is a listing of top tech companies and the educational level of their AI engineers:
Apple: 80 percent – bachelor's degree; 60 percent – masters degree; 20 percent – undisclosed
Facebook: 100 percent – bachelor's degree; 40 percent – masters degree; 40 percent – undisclosed
Intel: 67 percent – bachelor's degree; 67 percent – masters degree; Ph.D. – 67; 40 percent – undisclosed
Skill Set:
While the skills in most demand vary from company to company, dependent upon business needs, there are some core competencies that all companies value in AI engineers. Engineers must be able to search through large amounts of data for patterns, possess a deep understanding of algorithms, as well as problem-solving and math skills.
According to recent job postings, the major tech companies expect their AI engineers to be proficient with:
Java: 60%
Artificial Intelligence: 57%
Software Development: 48%
C++: 38%
Linux: 37%
Python: 36%
Personality Traits:
Useful character traits for AI engineers include:
Analytical thinking
An eye to the future
Innate curiosity and creative vision
Patience
Ability to work independently or collaboratively
Discipline
Patience
Attention to detail
Check out how this Google Software Engineer is talking about the applications of AI engineering in his career:
Salaries by Job Title for AI Engineers
Below are some general salaries arranged according to job title for AI engineers.
AI Engineer Salaries
Based on 78 profiles, the average base salary for AI engineers is $126K per year, ranging from $106K to $238K. The average market salary is $169K per year. Average market salary includes $126K base salary, $17K annual bonus, $11K signing bonus, and $40K annual equity.
Top companies hiring talented AI engineers are Facebook, with an average market salary of $304K; Apple, with an average market salary of $184; SRI International, with an average market salary of $170K.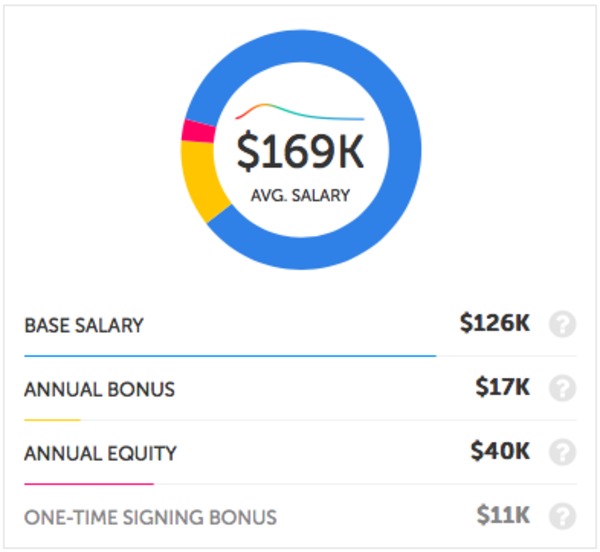 Average AI engineer salaries, per Paysa data.
Here is a breakdown of the educational levels required for AI engineers at top tech companies: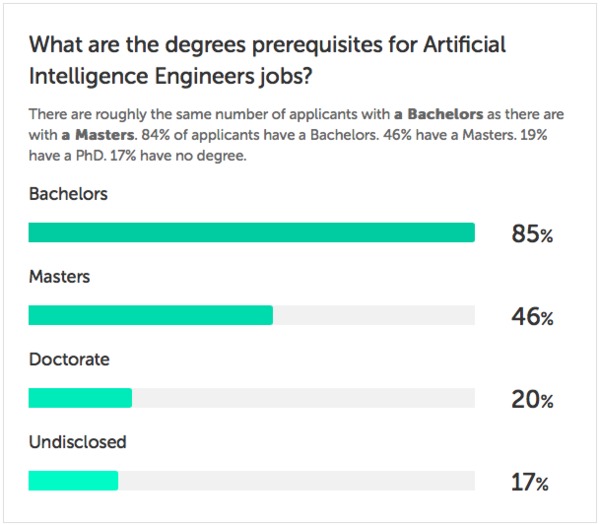 AI engineers employed by tech companies are required to know: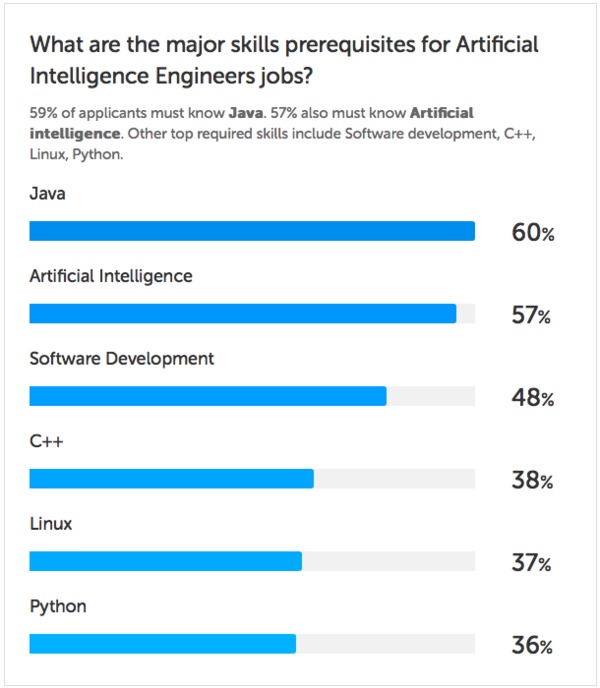 The Bottom Line
AI innovations are expected to bring transformative change to the tech sector and beyond. While many positions in the field are still new, up and coming talent is excited about their prospects in the near and distant futures. Besides earning the right degree and brushing up on the finer points of your skills, interested parties in AI careers would be wise to network, attend events, and keep up with the latest industry news.
Big companies are always looking for AI-savvy talent, and are willing to pay top dollar for professionals with these skills. If you're considering a job in AI engineering, let Data Revolution be your go-to resource. Data Revolution's consultants find jobs for you based on your requirements and provide advice to enhance your career alongside that. Sign up at datarevolutionhr.com to get started.
Follow @datarevo